A Russian pilot saved the lives of 226 people after making an emergency landing in a field near Moscow. The crash landing happened after flocks of birds sucked into the passenger jet causing both engines to fail. The
Ural Airlines A321
carrying 226 passengers and a crew of seven hit the birds, as it took off from Moscow's Zhukovsky Airport en route to Crimea.
Russian Health authorities said that 23 people including five children were taken to a hospital. But one was hospitalized and rest were released following medical check-ups and quick treatment. The Ural Airlines praised its crew members for their professionalism, according to Russia's Federal Air Transport Agency (FATA).
On Thursday, FATA's representative told, "On takeoff, after separation from the runway, the plane crashed into a flock of gulls, whose entry into the engines led to significant interruptions." Therefore, forcing the pilot to make an emergency landing in the cornfield, added the representative.
The hero pilot, Damir Yusupov lead to this miracle landing. 41-year-old Yusupov learned to fly at the age of 32.
"Yusupov brought the plane down…with no engine power and landing gear up," said Elena Mikheyeva, Russia's civil aviation authority.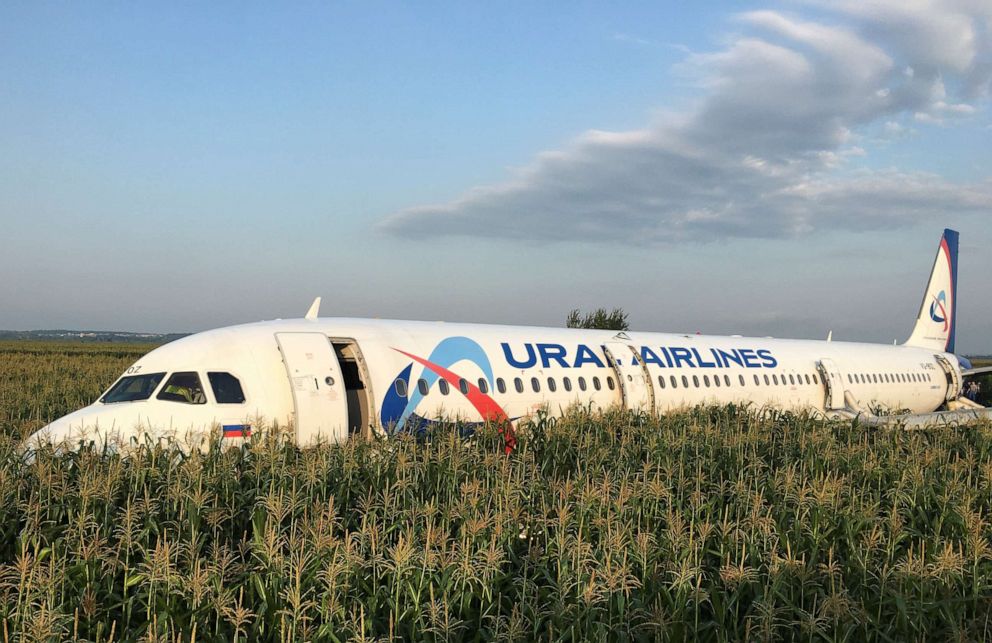 Russia said it has formed a special commission to investigate the status surrounding the incident. In June, an Angara Airlines flight in Siberia overshot the landing strip and burst into flames killing two passengers. Similarly, in May, a Russian Aeroflot SU1492 jet crash-landed at a Moscow airport and burst into flames leaving 41 dead.