A surprising incident took place at Crater of Diamonds State Park in Arkansas.
A Texas woman found a 3.72-carat yellow diamond at Arkansas' Crater of Diamonds State Park.
Interestingly, 27-year-old Miranda Hollingshead was watching a video on how to find diamonds.
According to state park's website, Hollingshead was on a family outing when she discovered the 3.72-carat diamond on Friday.
After searching for about an hour, she finally came across the yellow rock, which was a diamond.
"I was sitting in the shade, watching a YouTube video on how to find diamonds," said Hollingshead.
Hollingshead adds, "I looked at my kid, and then I looked down and saw it mixed with other rocks."
Over course of the last century, hundreds of thousands of diamonds have been found at the state park, reveals a report by Gizmodo.
Subsequently, Hollingshead took her finding to the State Park's Diamond Discovery Center, where they registered it as 3.72-carat yellow diamond.
The diamond is light yellow in colour with a 'sparkling, metallic lustre', described Park interpreter Waymon Cox.
"Much of the ground where Ms Hollingshead found her diamond is made of unweathered volcanic rock," Ms Cox said.
Cox added, "When it rains, flowing runoff often leaves loose gravel, and sometimes diamonds, on the surface in these areas."
"Diamonds have a brilliant, adamantine lustre that makes them easy to spot, and Hollingshead happened to be sitting in just the right place to see the diamond sparkle in the sun," said Cox.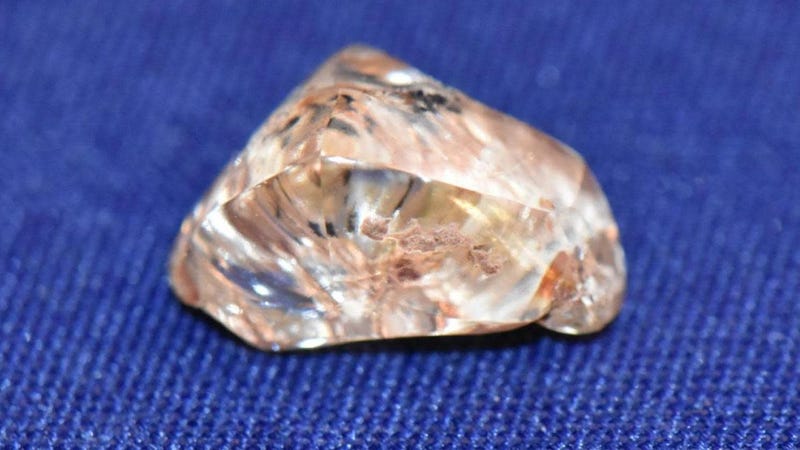 Hollingshead's gem is the largest yellow diamond found at the state park since 2015 when a teenager found a 7.44-carat brown diamond.
Notably, the largest diamond found in the US was in 1924 and weighed 40.23 carats.
Meanwhile, Hollingshead says that she will have it mounted on a ring if she does not sell it.